Black Girls Code:Detroit Chapter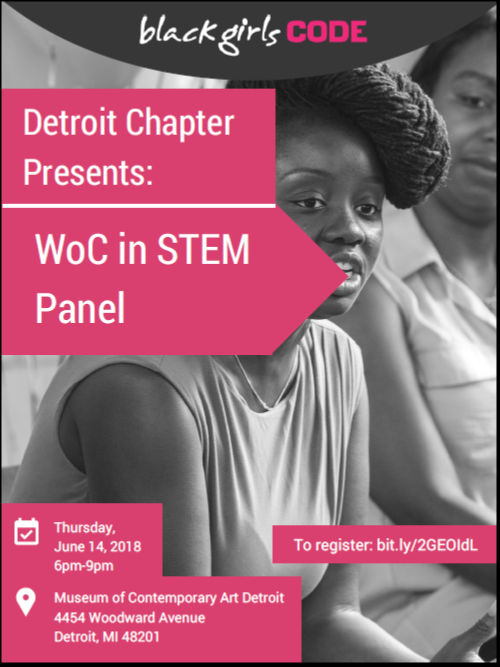 Black Girls Code has an upcoming Women of Color in STEM panel happening Thursday, June 14th 6-9pm at the Museum of Contemporary Art Detroit. This is a free event. I would love if you could have some of the youth involved with your program attend this event. Attached are fliers. I can also send you over the Eventbrite e-newsletter that contains the registration link. Additionally we have Summer Camp at Wayne State for 13-17 year olds July 30th – Aug 10th. I've attached flyers for both.
Women of Color Panel Registration
Just to give a little insight, BGC is devoted to showing the world that black girls can code, and do so much more. By reaching out to the community through workshops and after school programs, BlackGirls CODE introduces computer coding lessons to young girls 7-17 from underrepresented communities in programming languages such as Scratch or Ruby on Rails. By promoting classes and programs we hope to grow the number of women of color working in technology and give underprivileged girls a chance to become the masters of their technological worlds. Black Girls CODE's ultimate goal is to provide African-American youth with the skills to occupy some of the 1.4 million computing job openings expected to be available in the U.S. by 2020, and to train 1 million girls by 2040.